June experiences arthritis and depression. She loves living at New Life Homes and maintains that the apartments are bright, sunny, and affordable. Before she and William moved into New Life Homes, it became very difficult for them to find decent housing because many apartment owners exhibited little compassion for people with physical and emotional challenges. Moreover, rent prices were excessively high for people on fixed incomes. June firmly believes that New Life Homes empowers people with physical and emotional impairments.
William lives at New Life Homes Five. William feels very blessed to live at New Life Homes. The nice neighborhood and quiet community are really important to him. Moreover, he likes the compassion and support that John Bloomfield's organization provides for all residents. He is physically and emotional disabled.
William and His Grandchildren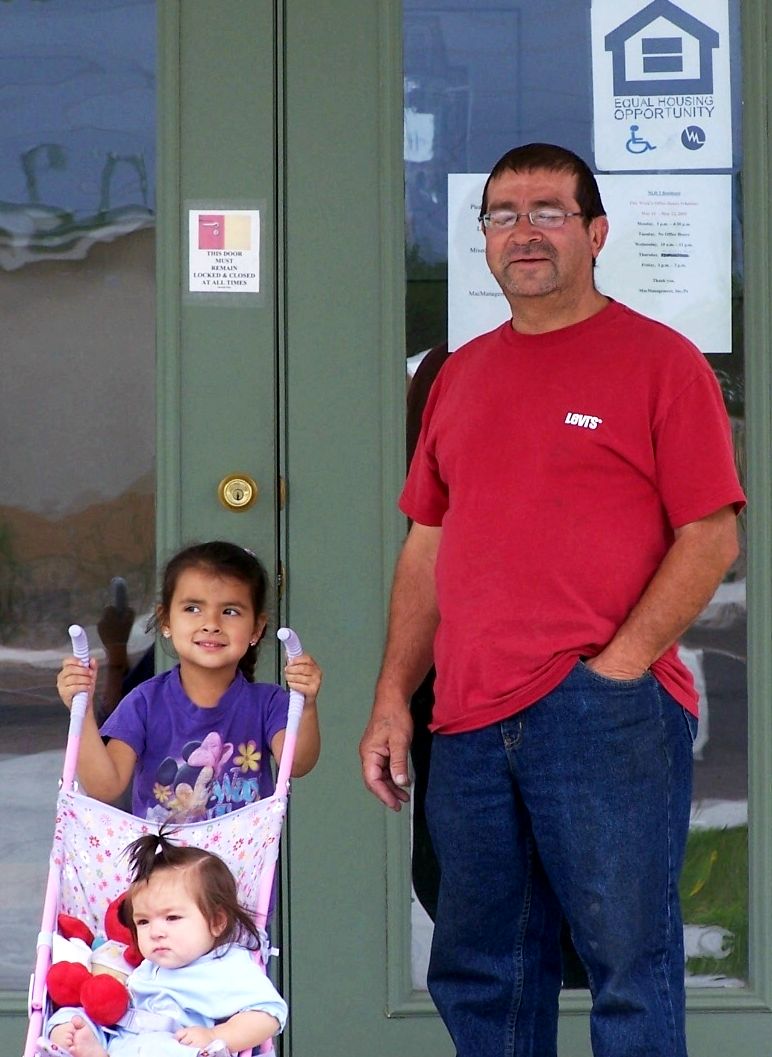 Jay lives at New Life Homes 2. When a child, he experienced a traumatic brain injury. At the age of 18 he became legally blind. He also suffers from depression, anxiety, and panic attacks. Unable to work, he lived with his parents most of his life. Five years ago his case manager entered him into the New Life Homes Apartments. He really likes his apartment and really appreciates John Bloomfield's assistance and his understanding in meeting his needs over the last five years.
Brenda lives in NHL3 and is very thankful for living in New Life Homes.
She was born with brain aneurysms and developed cancer at age 22 and had a hysterectomy. She has had 72 surgeries, 18 of them on her brain. After one brain surgery in 1991, her doctor told her that she only had six months to one year to live. However, she kept hope alive and is entering her 19th year of survival. She also has serious back problems, and is blind in her left eye and half blind in the right eye. She proclaims, "God Bless New Life Homes."
Sandra has lived at NLH 3 for the past 3 years. She was homeless for about 2 years.and had to be hospitalized 3 different times at the UNM Mental Health Center. Since living here she has been stable and on meds. She states, "I love living in New Life Homes for it has helped me a lot."
Sandra In Front Of Her NLH Apartment
Sandra In The Community Room
Apryl has lived at New Life Homes since August, 2008. She experiences emotional challenges that include depression, attention deficit hyperactivity disorder, post traumatic stress syndrome, and a touch of bi-polar. Apryl also experiences chronic back and neck pain resulting in frequent head aches that result in living limitations . Last year she suffered a stroke. Since being accepted as a New Life Home resident, she no longer faces homelessness nor unsafe environments as she did in the past. She would like to thank John Bloomfield for starting this wonderful housing program for people with emotional and physical challenges. She now feels safe and knows that for the first time, people at New Life Homes care about her.
Larry lives in New Life Homes. Since first grade, he has struggled with relentless emotional agony, schizophrenia, depression, and unhappiness.
At the age of 18 his community counselor made arrangements for him to enter a State Hospital after several suicide attempts. He remained an in-and-outpatient at the State Hospital until his release at the age of 21. Just before his release, a psychiatrist told his dad that he would probably be back and remain an in-and-out patient for the rest of his life. Unfortunately, Larry has been unable to hold on to jobs, and hardly find any due to his history of emotional suffering. But the New Life Homes housing project for the emotionally challenged provided him with a place to live six years ago. He feels very fortunate to live in John Bloomfield's New Life Homes. If not for the New Life Homes Organization he would become homeless and without hope.
Larry, With His New Life Home Neighbor, Constance
Since exercise is beneficial for people with emotional challenges, John Bloomfield allowed Larry to convert his living room into a gym. Larry exercises everyday in his NLH apartment gym.
Tina suffers from Acrophobia, major depression, COPA, and PTSD. In 1995, she divorced and retained the house. However, she was unable to keep up with the house payments and lost her home to foreclosure eight years later. Then Tina lived with her son for awhile until her case worker assisted her in obtaining an apartment in New Life Homes in 2008. Tina states, "I am very thankful for living in New Life Homes and feel very comfortable here. If not for New Life Homes, I would be homeless. I cannot say it enough, I am very glad to live here!"

Bernadine has been a resident of El Paseo apartments since the complex for emotionally challenged people opened in 1990. She experiences bipolar challenges.
Danielle and her daughter, Angel, moved into New Life Homes eight months ago. She experiences Bipolar challenges. Danielle loves living at New Life Homes and appreciates the services that are provided by New Life Home's owner, John Bloomfield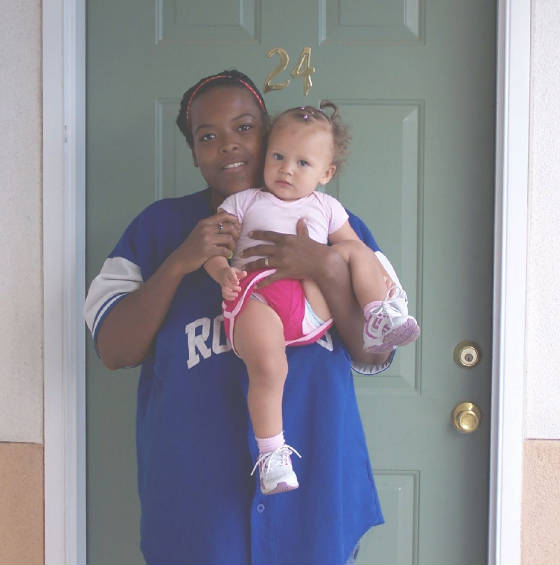 Danielle, Angle & Brenda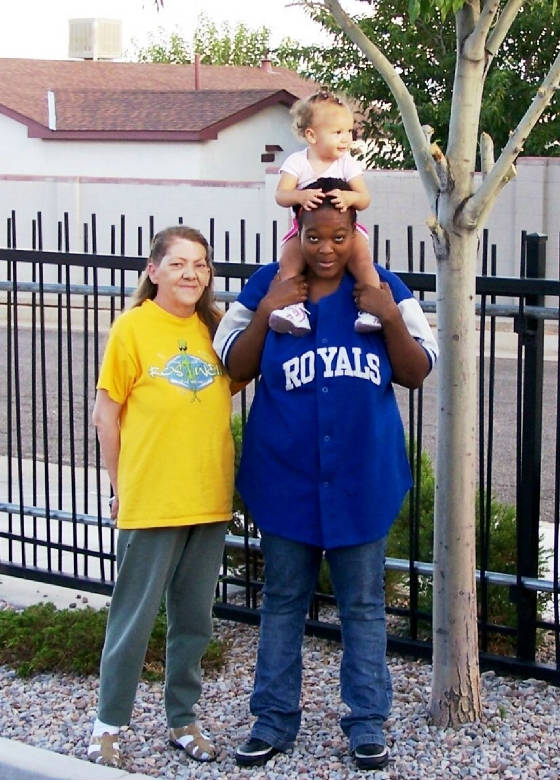 Dorinda has lived at New Life Homes for nearly two years. She is diabetic and experiences depression, anxiety, and migraine headaches. Dorinda likes her apartment and owns a bird (Pretty Boy) and a fish (Oscar). Her neighbors are very kind and helpful. Dorinda's caregiver, Lucy, assists Dorinda in cleaning her apartment and taking her shopping.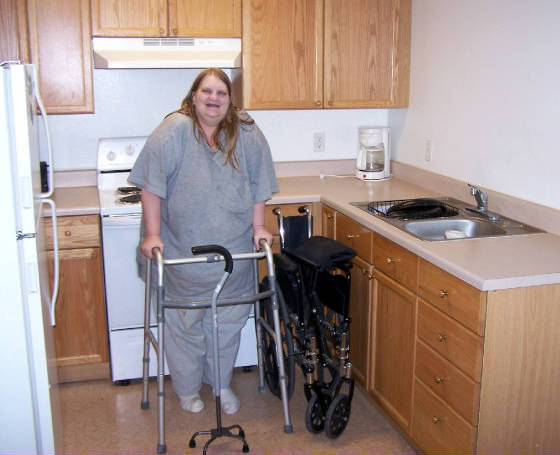 Dorinda with Pretty Boy and Oscar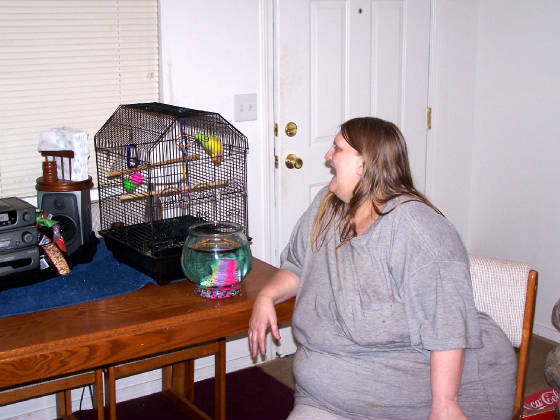 For over four years, Marcella was homeless. Six years ago, her case worker obtained New Life Homes housing for her. Living in the streets was the hardest part of her life. Marcella is really thankful for living in a really nice apartment. She feels that the residents at New Life Homes are part of her family, as do most other New Life Homes residents. If not for New Life Homes, she said, "I would still be living out in the streets."
Marcella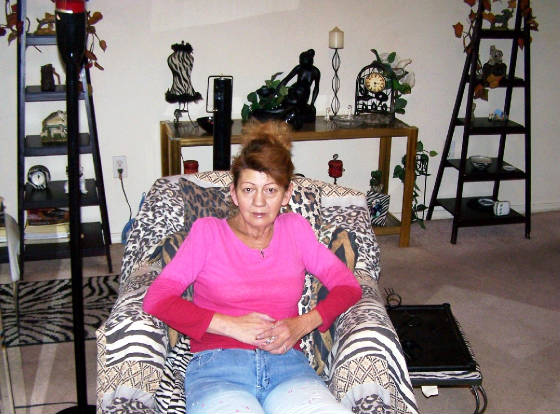 Marcella's Living Room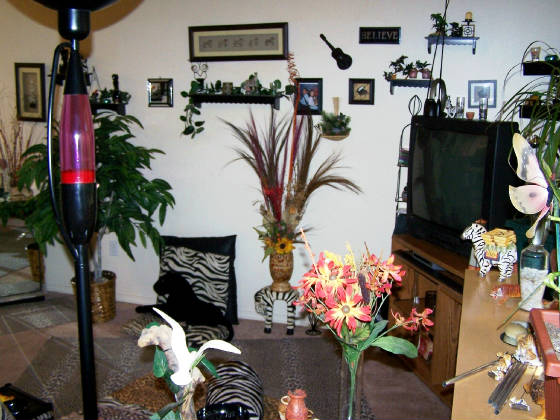 Marcella's Bedroom